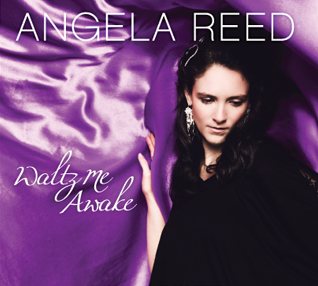 Waltz Me Awake
2011
Waltz Me Awake is Angela Reed's latest album, produced by Ryan Hadlock and recorded at Bear Creek Studio (Woodinville, WA). WMA's pop/folk soundscape is dynamic, with songs ranging from contemplative to crestfallen to cynical and silly-a work of rumination and joy.
From the record's opening paradiddle signaling the oncoming 'Parade,' you're shepherded with floats and balloons into Angela Reed's sophomore effort. Tastefully constructed by producer Ryan Hadlock (Gossip, Ra Ra Riot, Blonde Redhead) and Reed, the arrangements effortlessly make the necessary turns that lend the perfect backdrop to each of the songs leading characters.
These characters take on all sorts of complexions-from love's safe cocoon (Beautiful), to its harsh reality (Too Late). From the comical frustration with less competent drivers (the insightfully humorous Deep Deep Breath) to an altogether different road, trying to find directions on the emotional map (No One.)
Refreshingly understated, yet not overly simplistic or sparse-for-the-sake-of-sparseness, Angela's lovely and incredibly expressive voice sets the stage and immediately allows her music's cast of characters to come to life.
Credits
All songs written by Angela Reed © Copyright 2011
Produced by Ryan Hadlock

Recorded and mixed at Bear Creek Studio (Woodinville, WA) by Ryan Hadlock

Mastered at Lurssen Mastering (Los Angeles, CA) by Gavin Lurssen
String arrangements by Tom Dziekonski

String quartet: Tom Dziekonski (I violin) Eugene Bazhanor (II violin) Tim Hale (viola) Virginia Dziekonski (cello)

Album design and layout by Thad Jackson

Photography by Brendan Coughlin Photography (Portland, OR)

Angela Reed's hair and makeup by Katie Simon

Earrings especially created by Micki Lippe looselyhinged.com