Tony Engelhart, Weekly Volcano (Tacoma, WA) October 1st, 2008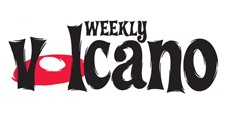 Angela Reed is not a folk singer, even though she leans toward the genre lyrically – think Sarah McLachlan meets Melissa Ethridge as she blends acoustic rock with an updated sound that is in step with the mainstream. The 20-something songstress is inspired by such artists as Joni Mitchell, Ani Difranco and Jeff Buckley, but doesn't sound like any of them. Rather, she takes elements from each and creates her own unique sound.
Born with a naturally beautiful voice, her range is vast as she croons through her originally penned material. Whether performing as a solo act or with her band, Reed's shows are akin to an intimate gathering of friends. On the Seattle native's Sophomore studio effort, Undertone, Reed paints personal narratives of her life with an openness that borders on confessional.

Music of Choice
Mike Osegueda, Fresno Bee (Fresno, CA) October 3rd, 2008
Angela Reed: The Seattle singer/songwriter is playing a Fresno show Thursday at Java Wava. Reed is perfect for a neighborhood coffeehouse, playing soulful acoustic music that could woo fans of Sheryl Crow and Marc Cohn. She'll be joined by local singer/songwriter Pieter Moerdyk.

Seattle Songstress To Visit Seaside
Donald Allison, Seaside Signal (Seaside, OR) October 2nd, 2008
Acoustic guitar rocker Angela Reed will perform Friday night at Goose Hollow and she is inviting people to come and listen to her soulful songs. Her performance is part of her West Coast Tour.
"I leave tomorrow for 11 shows for my tour," Reed said on Monday. "Seaside is my first stop on the Oregon Coast, and I will go all the way down to San Luis Obispo in California."
Reed, 27, will be touring behind her 2006 album, "Undertone," and playing selections of her upcoming album that she is currently working on.
"Undertone is a record with acoustic rock, pop and folk sings on it," she said. "It's got some dashboard drumming and stuff that will make you cry. It's a full band on the record, not just my guitar."
Reed said she has been compared to a combination of Sheryl Crow, Joni Mitchell, and Annie Lennox. She said her songs are inspired by life.
"I try to write in every way that I can," Reed Said. "If I always start with a lyric or melody, I'm limiting myself. You get a whole lot more surprises when you attempt something new… A lot of my music is about love, inspiration, loving, loss and trying to get myself moving. There are sad songs, happy songs, a little of everything."
Reed has a Bachelor's degree in music from Cornish College of the Arts in Seattle, where she transferred from Berklee College of Music in Boston.
"I grew up in a private touring choir in the northwest called Columbia Choirs," Reed said. "I eventually became a soloist, and they taught me to read music and ear training. I never wanted to do anything more than music. I always wanted to be a rock star."
Reed said she also does a few covers by artists Roxette, Joni Mitchell, Ian Tyson and Amy Correia, and her Seaside show will have a representation of oldies but goodies and brand new songs. Reed has been coming to Seaside since she was a child when her parents owned a beach house near Goose Hollow. She said this would be her first time playing on her own in Seaside.
"I sat with my guitar on the beach and sold CDs, and I sang background for a group at Quatat Park, but this is the first time actually playing a show of my own in Seaside," she said.
Vashon Loop, February 15th, 2008

Angela Reed at Cafe Luna
Explosive and elegant are two words to describe this young Seattle-based songstress. Angela Reed genuinely delivers her eclectically influenced writing style, her stripped down and honest fashion of performing, and her voice that is somehow raw and angelic at the same time.
Angela was humming before she could talk, and she comes at the world with experience and training under her belt. Her debut album Undertone reveals an already seasoned composer and chanteuse. She attended Berklee College of Music and earned a Bachelor of Music from Cornish College of the Arts. She displays the songwriting prowess of Joni Mitchell, the freedom of Ani Difranco, and the energy of Jeff Buckley, enfolded with her own unique pop sensibilities.
Angela Reed is a driven musician who performs with strength and class. Her competent and poignant lyrics, expressive sense of melody, unmatched passion, and personal connection with the listener make her a beautiful example of artistry at work.

Reed to Perform at Soul Books
Redmond Reporter, March 19th, 2008
Soulful acoustic rock/pop artist Angela Reed performs at 8 p.m. Saturday, March 22nd at Soulfood Books, 15748 Redmond Way. The all-ages show is free, with donations graciously accepted. Reed's album "Undertone" is available from CDBaby.com.
She has performed at Bite of Seattle, Victor's Celtic Coffee in Redmond and throughout the Pacific Northwest. Reed lists KT Tunstall, Joni Mitchell, Brandi Carlile and Sheryl Crow among her comparisons.
&nbsp